Liz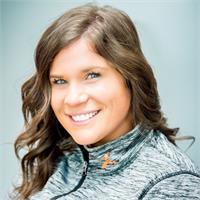 Studio Manager
Liz first started her orange journey as a member. After taking her first session with Orangetheory, she knew right away that this was a community she had to be apart of. Liz has worn many hats during her employment, which have included but not limited to; Membership Advisor, Front Desk Manager, "Heart Rate Monitor Pod Whisper-er", Janitor, IT Problem Solver, Equipment Fixer-Upper, Organizer of all things, Injury Nurse.. finally landing her the Studio Manager title.
WHAT DO YOU BURN FOR?
My happiness and my own personal fitness journey
WHAT'S YOUR GUILTY PLEASURE?
Binge watching reality TV while digging into a pint of HALO TOP!
WHAT'S YOUR FAVORITE OTF EXERCISE?
DEADLIFTS!!!
Liz is currently not instructing any classes.