Jennifer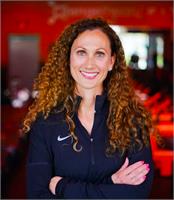 An NASM certified personal trainer who's passion is fitness and helping people be the best version of themselves. I believe the human body is capable of accomplishing amazing things, but sometimes we need a little push to get us there. My goal is to be that push for those that need it. I have a degree in Exercise Science and Wellness and a personal yearning for knowledge in nutrition and fuel for the human body. I believe in constantly learning and working to improve yourself, with the end goal to help others improve. I have a husband, 2 kids, and a dog that I adore.
WHAT DO YOU BURN FOR?
I burn for my family and to be the best version of myself so that I can help others be their very best selves.
WHAT'S YOUR GUILTY PLEASURE?
My favorite guilty pleasure is reading outside in the sunshine and cupcakes. Not necessarily together, but I wouldn't turn the two down!
WHAT'S YOUR FAVORITE OTF EXERCISE?
My favorite OTF exercise is a tie between the ultimate burpee and pop jacks. I don't know why, maybe because I find them very challenging and both get my heart rate up fairly quickly.
Jennifer instructs the following:
60 Minute Orange Theory Workout




The largest capacity workouts at OTF. 3 Groups training in all 3 areas of Treadmills, Rowers and Weight Room at the same time. The duration of the training blocks for each area will be varied.




The longest workout at OTF. Typical workout will be 40 minutes of treadmill intervals and 40 minutes of floor blocks including weight room and rowers. Think Muscle Endurance and your highest calorie burn at OTF!